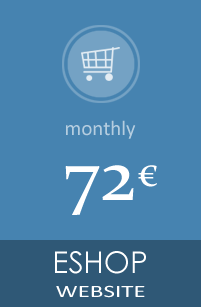 ESHOP Website
72,00€ VAT is not included
eShop website + up to 15 internal pages

Indicative are referred: About us, Contact, Photo Gallery, Presentation of Services or Products,  Blog, Shop, User Account etc.

Hosting

Your website is hosted on a fast server with wide bandwidth.

Domain Name

Indicative are referred: mysite.gr, mysite.com, mysite.net, mysite.org etc.

Email Address (based on Domain Name)

Indicative is referred: If your Domain Name is mysite.gr your email can be info@mysite.gr etc.

6 hours technical support (through phone, email, skype)

Technical issues, website update, optimize or readjustment of SEO.

4 hours training

Our team trains you on the content management system.

Google presence

Your company is visible on Google's search results (based on users searches for your company) and Google Maps.

Search Engine Optimization (SEO)

We help your business to reach the top of Google Ranking.

Google Analytics

We provide you analytics based on your website. Indicative are referred: User visitation percentages,User abandonment percentages etc.

Creation / Connection of social media pages

Creation up to 4 social media and connection of already existed social media with your website.
Minimum Qty: 12